The Akron Municipal Court has recently moved. Effective Monday, November 13, 2023, hearings will now be held at 172 South Broadway Street in Downtown Akron.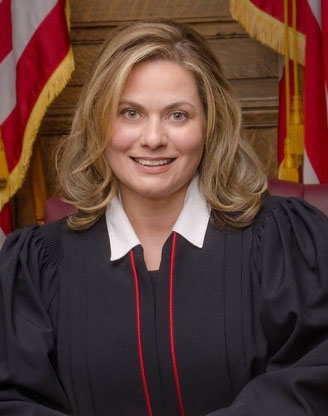 Judge Nicole Walker
Judge Nicole Walker served as a magistrate for the Honorable Elinore Marsh Stormer in the Summit County Probate Court before being elected judge in November 2017.
In 2019, Judge Walker became the Presiding Judge of the Akron Municipal Court's ARCH Court, a specialized docket intended to supervise OVI offenders in the community and help impact the jail population by reducing long-term sentences.
Prior to serving in the Summit County Probate Court, Judge Walker served as a magistrate in the Summit County Court of Common Pleas and as an assistant prosecutor in the felony division of the Summit County Prosecutor's Office.
Before entering public service, Judge Walker began her legal career an associate attorney with Brouse McDowell, L.P.A. where she focused on business and civil litigation.
Judge Walker graduated from The University of Akron and The University of Akron School of Law. Judge Walker is active in the community, serving on several boards and frequently giving informational talks and presentations on subjects such as crisis intervention training for police officers and first responders, financial exploitation of the elderly, and how to protect assets.
Kecia Wallace, Bailiff       330.375.2611
Cheryl Green, Magistrate/Judicial Attorney
 
PRACTICE AND PROCEDURES WHEN APPEARING IN JUDGE WALKER'S COURT:
Communication with the Court should be in the form of motions (rather than letters or phone calls), accompanied by a proposed order specifying the relief requested. 
The Court will not grant continuances by telephone. Defendants must appear in court to sign appearance slips notifying them of their next court date. Attorneys cannot sign appearance slips on behalf of their clients.  Failure to appear for court will result in a bench warrant.
The Court should not be copied on correspondence between counsel. The Court will docket any case-related correspondence that it receives.
Communications with the Bailiff, Law Clerk, and other staff concerning the administration (not the merits) of a case is permissible. Any communication with the Court must be with the knowledge and consent of all parties.
Counsel (not the Court) is responsible for the filing of all pleadings, documents, and any other material provided to the Court and/or the Clerk and for service upon opposing counsel or pro se parties.