Magistrates
Magistrates are non-elected judicial officers. They are appointed by the Judges of the Court. Magistrates conduct proceedings just as a judge would, but certain decisions of the magistrate are not final or effective until they are reviewed and adopted by a judge.
Magistrates issue orders and decisions. A magistrate's order is effective immediately. If a party wants the judge to review the order to have it changed, then the party must file a request to that effect. However, the order will still remain in effect while the request is pending unless the judge or magistrate issues a stay.  An order is usually issued for matters that are not dispositive of the entire case. Orders to continue a case, pretrial orders, orders regarding discovery, etc. are examples of orders issued by magistrates that take immediate effect.
A decision is issued when substantive issues are being addressed, or when the decision, if affirmed, would result in a final disposition of the case. A magistrate would issue a decision when deciding the motion of a party for summary judgment, or for judgment on the pleadings, for example. Similarly, a magistrate would issue a decision after hearing a contested trial.
---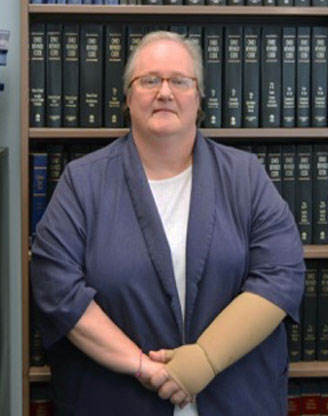 Laura A. Killian
Magistrate Killian serves the Court as both a Judicial Associate and Magistrate as needed. When serving as Magistrate, Ms. Killian serves in all areas of Court including Traffic, Small Claims, Arraignment and regular docket cases. She is a graduate of the University of Akron School of Law and was admitted to the bar in the State of Ohio in 1990. Magistrate Killian has previously worked for the City of Akron in both the criminal and civil divisions of the law department.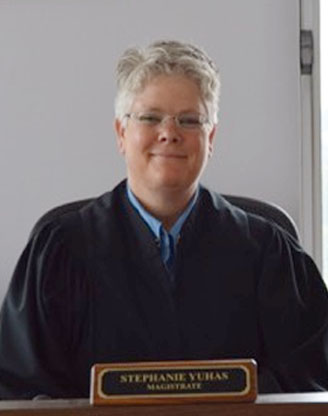 Stephanie Yuhas
Magistrate Yuhas presides over Small Claims Court. She is a graduate of the University of Akron, and was admitted to the bar in the State of Ohio in 2005. Magistrate Yuhas also serves as the Language Access Coordinator of the Akron Municipal Court. Magistrate Yuhas is an Army Veteran and previously served as the personal Magistrate for Judge Kathryn Michael, staff attorney for the Legal Defender's Office of Summit County, Assistant Prosecutor for the Akron City Prosecutor's Office, and in private practice.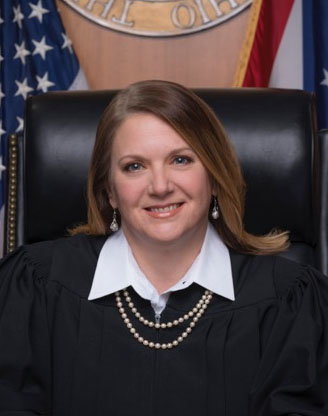 Susan Baker Ross
Magistrate Ross is a graduate of the University of Akron and was admitted to the practice of law in the State of Ohio in 1991.
She currently serves the Akron Municipal Court as the Traffic Court Magistrate, and has been with the Court since 2012. Ms. Ross presides over the court's daily traffic arraignments and trials, handles parking and driving privilege hearings, and manages files after sentencing. She further manages the Court's License Intervention Program which assists drivers in obtaining a VALID driver's license. She has also served in all other areas of the Court including Small Claims, Arraignment Court and on regular docket cases civil and criminal cases as assigned. 
Attorney Ross currently serves as Co-Chair of the Lawyer's Assistance Committee of the Akron Bar Association. She is a member of the Summit County Collaborative Against Human Trafficking and ATHENA International. She has previously served as a member of the Alcohol Drug Addiction and Mental Health Services Board, Women's Network Board and many community organizations.
Ms. Ross' prior employment history includes working for the City of Akron Law Department, the Summit County Prosecutor's Office, the Portage County Prosector's Office and in her own law practice. She has also served the Village of Mogadore as Councilperson and on the Planning and Zoning Committee.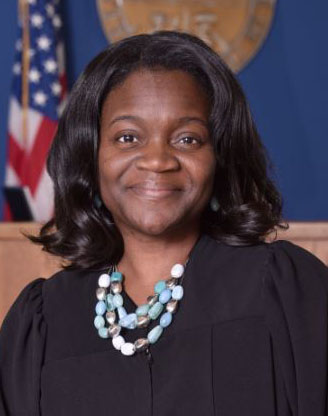 Tamara Todd
Magistrate Todd is a 2002 graduate of the University of Akron Law School and is a judicial associate and Magistrate at Akron Municipal Court. Her duties include providing legal assistance to the Akron Municipal Court judges as assigned, which could be in the form of court coverage, assisting their staff, answering questions and/or doing research on legal or legislative issues. Magistrate Todd also provides court coverage for the small claims court and supervises the Small Claims Court Mediation program. Tamara has in some shape or form called Akron Municipal Court home since 2007, except for a short stint in Cleveland as a Hearing Officer from 2013-2014. She worked as an Assistant Akron City Prosecutor from 2007-2013 and rejoined the Court in January 2015. From 2005-2007, Magistrate Todd worked as an Assistant Prosecutor for the Summit County CSEA.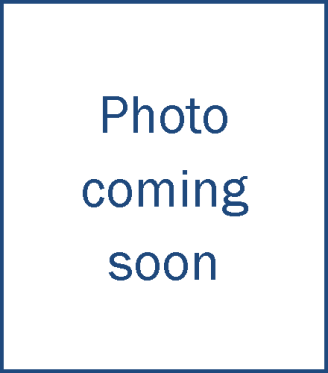 Tania Nemer
Magistrate Nemer presides over small claims, civil, traffic and criminal matters. She graduated with distinction from Western Michigan University Law School in 2007. For approximately 7 years, Tania served as "Of Counsel" for McGinty, Hilow & Spellacy Co. LPA where she managed a private practice focusing in criminal defense, immigration, small claims, evictions and civil matters. She transitioned to nonprofit as an Immigration Senior Attorney at Catholic Charities, Diocese of Cleveland where she worked for over 4 years representing individuals and families in Federal Court.
Tania has previously served as vice-president of the West Shore Bar Association (WSBA).
She is a longstanding member of the Ohio Chapter of the American Immigration Lawyers Association (AILA) and the Immigration Customs Enforcement liaison for the Northern District of Ohio. She has also volunteered on multiple occasions at the Family Detention Center along the southern border in Dilley, TX. Tania published a professional article, Criminal and Immigration Laws: The Lines and The Lives They Cross, in the Cleveland Metropolitan Bar Journal.
She currently lives in Hudson, Ohio with her husband and their three vibrant children.