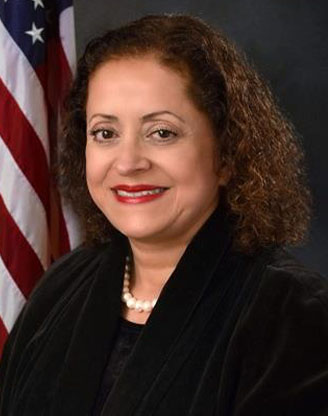 Judge Kathryn Michael - Administrative/Presiding Judge 
Judge Kathryn Michael graduated from the University of Akron in 1982 and The University of Akron School of Law in 1986. She has served our community as a trial attorney, representing individuals and small businesses, as a trained mediator, and as a part-time magistrate. Judge Michael is committed to our community, serving on many nonprofit boards. She was elected as judge in November of 2005, and re-elected in November of 2011 and November of 2017. As of 2018, Judge Michael has handled over 40,000 cases and sentenced over 30,000 offenders as a Judge.
While serving the Court, Judge Michael was elected as the Presiding/Administrative Judge for the entire Court in 2010, 2013 and the current year. She currently shares the duties of presiding over the Court's OVI Court with Judge Williams and has served and presided over the Court's Family Intervention Court for the past nine years.
Judge Michael's community involvement spans more than 25 years. Highlights include:
ATHENA Lifetime Member (2016-Present)

President, St. George Ladies Society

Rotarian, Rotary Club of Akron (2016-Present)

Akron Bar Foundation Fellow (2015-Present)

Chair and Co-Chair, Akron Bar Association Women in Law Section (2015-Present)

Certified Trainer, Bridges Out of Poverty Program, 2014

Ohio Supreme Court Ninth Districts Pro Bono Committee (2009-2011)

Summit County Criminal Justice Advisory Board (2009-Present)

Trustee, St. George Antiochian Orthodox Church (2007-2014)

Trustee and Past President, Tri-County Independent Living Centers, Inc., an advocacy organization for mentally and physically challenged individuals (1996-Present)

Akron Art Museum Fundraising Committee (2005-Present)

League of Women Voters (2000-Present)

Federated Democratic Women's Club (2000-Present)

Volunteer Presenter, Rebuilding for a Second Chance Program (2010)

Junior League of Akron (1998-2011)

Volunteer Judge Participant for the Safe Surrender Program (2007, 2009 & 2014)
Catherine Cotrufo, Bailiff                330.375.2054
Erica Voorhees, Judicial Attorney